The Brockton Collective has been invited to participate at TAVES 2014!
Submit Art Application or Apply for Live Painting
The Toronto Audio Video Entertainment Show (TAVES)  is a large consumer show that will be hosted from October 31st to November 2nd, 2014.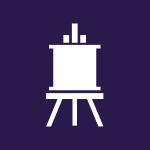 This year's show will be hosted at the Sheraton Centre Hotel, Downtown Toronto across from city hall. It will be the largest to date and is expecting between 6000 – 8000 guests over the course of the 3 days. The organizers have realized it has become a lifestyle consumer show that caters to a market with a larger disposable income. For this reason they would like to introduce art to the show. We are honoured to be the only independent arts organization involved and are responsible for leading curation of the event. Joining along side us is, OCAD University, York University and Centennial College.
In the past the show has focused mostly on high-end electronics for consumers. Since this is the first year that art is being added to the lineup, we anticipate previous year's guests will be surprised with the addition. Because of these two factors we have decided to create an overall theme or muse to unify the show through out the event space.  We are looking for the best of the best. We want this to be a show that event goers will not forget. We want to see guest pulling double-takes at the artwork. We want a knee jerk reaction to the art; something that will pull them out of what they are doing, to appreciate the art works and potentially buy them. This year's show will be titled "Jolt" as in, "to bring to a desired state sharply or abruptly".
Additional to wall art we will also have one of the ball rooms available to us and would like to conduct our first official auction and live art painting. These options depend purely on interest from our artists in participating in person.
If you are interested in being a part of the show, we are now taking submissions. This is available to members only. Art submissions are free. If your art work(s) is selected you will be notified by email.
Due to the location, we are no able to modify the walls meaning that all hanging solutions will have to be provided by us and will require a hanging fee. Depending on the size of the art work(s), the hanging fee will range from $15 – $45. A commission rate of 25% will be applied to any art work(s) that sells. The Deadline for Art Submissions is October 15, 2014. Drop off for Art work will be October 29th and 30th and Pickup will be November 2 after 5PM. If special arrangements are required please contact us.
For more information on TAVES please click here.