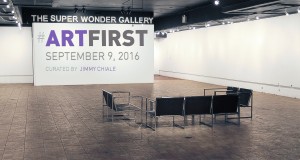 #ARTFIRST – Art Exhibition
Sept. 9-11, 2016 | Reception Sept.9 and 10, 2016 | Extended Deadline:  Sept. 5th Midnight
Curated By: Jimmy Chiale
To kick off the fall season, The Super Wonder Gallery is pleased to host #ArtFirst a pop-up  exhibit curated by Toronto abstract painter Jimmy Chiale.  This call for art submissions may include paintings, drawings, mixed media, sculpture, photography and video. The works should be current and should speak to the artist's dedication, tenacity and perseverance to place art first. Show us your latest and greatest labour of love.
We are also excited to be making announcements on how Brockton Collective is placing art first. A short presentation will be made to speak about our initiatives and future goals. The Super Wonder Gallery will be open during the day on Friday, Saturday and Sunday.
How to Submit?
Artists are asked to submit via the submission form below. Works that are selected will require a handling and hanging fee of $20/accepted work. The artist is responsible for delivery of the art works on Sept. 7 to the gallery and pick up after the show on Sunday Sept. 11.
As an artist run collective with over 300 members and a five year history, our goal is to support emerging artists and the exhibit of contemporary art works.
For proposed exhibitions please submit a proposal general@brocktoncollective.com.