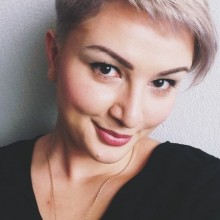 @zkoutchieva
active 1 month, 3 weeks ago
About
Art Type
Traditional Visual Arts, Modern Visual Arts, New Media Arts, General & Critique, Service
Talents
Design, Editing, Painting, Photography, Sculpting
Bio
Zera Kuchity is a graduate of University of Toronto where she specialized in Arts Management and majored in Studio Art. Her work addresses various issues surrounding identity. With a clear passion and aptitude for mixed media, she creates challenging pieces that reflect her constant quest to experiment and confront both material and content. Her practices revert back to her childhood in North Ossetia, where growing up, she found herself constantly making art with found materials. This continual act of creation was complimented by her father's influence as a music lover and artist who crafted wood burnings.
Another imperative element shaping Zera's art is her nomadic existence. As someone who has moved very frequently throughout her life, she is constantly aware of many different communities, and familiar with the challenges of adaptation while also withholding her own voice and identity. Today, she addresses notions of being an 'outsider' in her work. She explores interest in her personal diaspora and her constantly changing situation within communities.
After graduating from UofT, Zera has actively exhibited her work in Canada. She has won the Best Studio Student Award at the Juried Student Exhibition and was the feature artist in Transcend Magazine, an e-publication for the arts at UofT. Her photographs have been featured in several print sources including Canadian Musician Magazine and "Youth, education and marginality: Local and global expressions" by Dr. Kate Tilleczek and Dr. Bruce Ferguson. Zera is currently continuing to explore identity politics, and form through her art practice.
You may contact Zera at cottontailclouds [!at] gmail.com
Experience
Education
Arts Management Specialist/Honours BA – UofT
Studio Minor – UofT
Certifications
Event Planning Training (ArtReach)
Leadership Training in Mural Art (Mural Routes)
The Art of Sponsorship Training (Business for the Arts)
Appreciative Inquiry Certification (AI)
Creating Positive Spaces Training (OCASI)